Pinball league: The World of Dr. Pickaxe v1.1 for Windows Store
Jul 18 2013
Faithful to our commitment to update our games according to our loyal users' suggestions, we announce Dr. Pickaxe version 1.1 for Windows 8!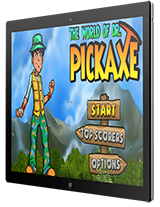 Some of the enhancements are:
Full Screen Antialiasing
Support for XBOX controllers
User interface enhancements
Enhanced control schemes
(you can now control the flippers with the cursor keys and the mouse buttons)

As always, we are thrilled to hear your feedback!

"Pinball League: The World of Dr. Pickaxe" is available on Windows Store for $2.49 / €1.99!