Pinball League: Hardhat Zone for Windows Phone
Oct 16 2014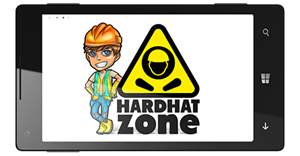 Our new Pinball game is under construction – literally!
Welcome to "Hardhat Zone", the latest installment in the Pinball League series! 
"Hardhat Zone" is our new, immersive, "construction site" themed pinball table. A world full of activity, machinery and workers, cranes and bulldozers. Unlock and complete all the stackable modes, collect the bonuses and rack up your score.
But bragging about your high-score to your friends on Facebook just won't cut it anymore! Challenge your friends to a simultaneous 2 player Versus match: bump together your NFC equipped phones and connect instantly for a competitive 2 player game! Gain bonuses for yourself and send obstacles to your opponent!

· Photorealistic graphics
· Arcade mayhem
· Refined ball physics
· Vibration feedback
· Tilt mechanics
· Portrait and landscape modes
· 2 player NFC showdown…
…welcome to the Hardhat Zone!